We Thank Our Loyal Customers Old and New​
"We lived in CT for more than 30 years and move to Florida last year. We're glad we can now order a taste of home online."
Jacksonville Fl.
Bob and Precilla
"It's not a holiday without Rosols on the grill."
Drew
West Hartford
​
"I've been coming to Rosol's for years. My grandfather started coming originally back in the 40's. You're still the best!"
Diane
Southington
"So glad you have reopened the online store. We now live in New Mexico and have had family and friends bring us your hot dogs but now we can have them mailed. We are never without your dogs. They are the best around."
Laura and Bruce
New Mexico
"I moved to California and my son lives in Pennsylvania. When I found out you have an online store available, you made our day. I enjoyed the veal loaf, kielbasa, and hotdogs that we grew up on in New Britain. Thanks sooo much."
Barbara
California
"I was back in New Britain this past weekend and my husband and son said 'Don't come home without Martin Rosol's kabanosy and kielbasa!' I put in an order online and we received it here in Illinois yesterday! We had kielbasa and eggs for breakfast this morning! Yum! Thank you Martin Rosol's for such fast delivery and such quality products."
Wanda
Illinois
"My husband and I were born and raised in New Britain and our families always purchased Rosol's products, as did my husband and I after we got married. After my husband was transferred with his job to Ohio, we so much missed having Rosol's meats on our table. I recently found that we could order on-line, and we have. Our orders come to us very fresh and still cold, and we can now enjoy most of our favorites within 2 days of placing our order. Thanks Rosol's for shipping out of state to your loyal fans! Your products are the best!"
Angela
Ohio
"I lived in CT for 40 years and then my wife and I decided to move to South Carolina. You cannot get a descent hot dog here. Every time we go to CT for a visit we have to bring home three or four 3lb. boxes. Now that I found Martin Rosol's online, I won't have to go to CT that often!"
Stephen
South Carolina
​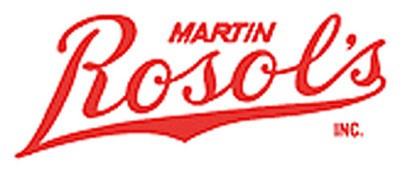 Telephone 860-223-2707 or 860-223-2708 ~ Fax 860-229-6690​